Best Stone for Driveway Surfacing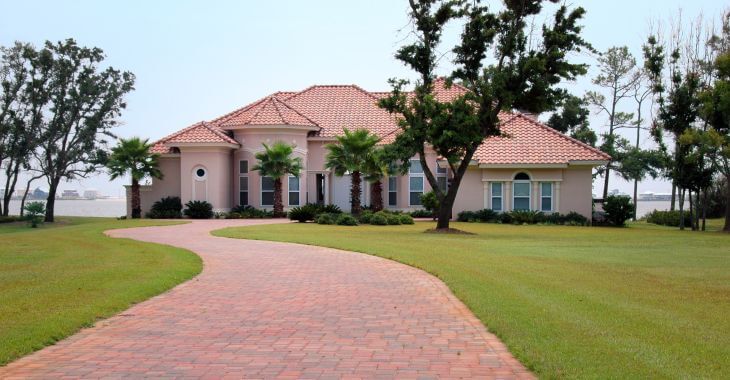 Stone is a fantastic material for all types of outdoor hardscapes, including driveways. If you are resurfacing your driveway, natural stone can offer a wide selection of options to provide an even, functional and beautiful surface. From cost-friendly gravel to gorgeous marble pavers, there is an option for every budget and style. Determining what is the best stone for a driveway depends on your preferences. Here are some of the top choices in natural stone paving options.
Best Types of Gravel for Driveway Surfacing
Gravel is a budget-friendly and functional option for surfacing your driveway. Not all gravel for driveways is the same. You can choose from various types of gravel and top dressing to create the look and function you desire. Gravel driveways require three layers of stone – larger stone on the bottom layer, medium-sized gravel in the middle layer and a small-sized gravel on top. Here are some of the best choices in driveway gravel for the top, visible layer.
Jersey Shore Gravel

If you want a shimmering tan and gold driveway that is reminiscent of the beach, choose Jersey Shore gravel. The small, polished stones come in various shades of gold, tan and brown, providing a beautiful top layer for your driveway. Due to their smooth, round shape, edging is needed to keep it in place.

Pea Gravel

For a beautiful appearance for your gravel surface, pea gravel is one of the most desirable rocks for driveways. The small, smooth stones come in a variety of colors and provide a nice appearance and surface.

Crushed Stone #411

A practical option for your top layer is crushed #411 gravel. This blends #57 stone with rock dust to create a stable top layer for your driveway. Crushed stone #411 can be used without edging and is a cost-effective and easy-maintenance gravel type.

White Marble Chips

If you want a clean, elegant surface for your driveway, white marble chips can be a wonderful option. The marble chips are smooth and aesthetically pleasing, but they are more expensive than other types of gravel.

River Rock

A classic look for a gravel driveway is the river rock. With multi-colored stones that are rounded and polished, river rock offers a beautiful top layer. However, river rock gravel does not pack as well as some other types of gravel and may need to be replaced more often.
Best Paver Stones for Driveways
If you prefer a paved driveway but want to use natural stone, there are many options available. Stone pavers provide a stable, even surface and they are very durable and easy to maintain. Plus, the aesthetics of a natural stone driveway can add value and beauty to your home. What is the best stone for driveway paving? Here are some of the top sellers in natural stone pavers:
Tumbled Travertine

For a smooth texture and beautiful appearance, tumbled travertine is a stunning option for your driveway. Travertine is light-colored and retains a cool surface, which is wonderful in hot or sunny regions.

Tumbled Marble

Similar to travertine, tumbled marble pavers also offer a cool, smooth surface for your driveway. Marble is more expensive than most natural stone pavers, but it can add curb appeal and value to your home. Both marble and travertine paver driveways are easy to clean, repair and maintain.

Granite Cobblestone

A traditional, classic stone look is the granite cobblestones. Granite pavers are extremely durable, and they can last a lifetime. Most granite comes in shades of gray. You can choose from various patterns and designs to create the look you desire for your driveway.

Basalt (Bluestone) Pavers

Basalt or bluestone is a type of sandstone and a popular option for driveways. Bluestone can be crushed into gravel or cut in slabs or pavers to provide a durable driveway surface. The gray-blue hue is beautiful, and it resists staining, offering easy maintenance and a long-lasting surface.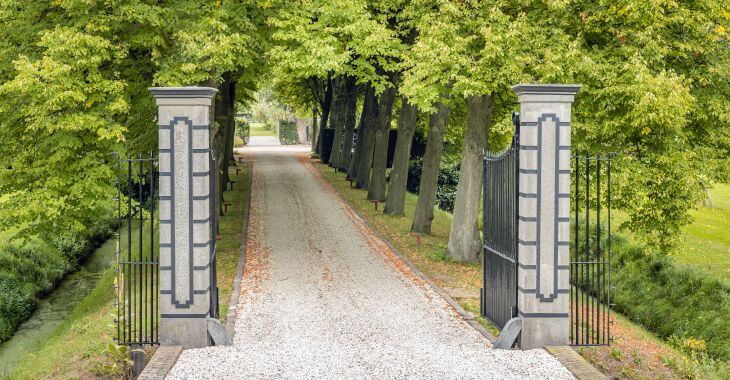 What is the Best Stone for a Driveway?
When it comes to choosing the best stone for driveway surfacing, you need to consider cost, maintenance, function and appearance. Gravel for driveway surfacing is the most cost-effective for installation, but it will require refilling as gravel is misplaced over the years. Stone pavers are more expensive but require minimal maintenance and can last for decades. As far as function and appearance, most people prefer the look and stability of stone pavers over a gravel stone surface.
There are so many choices and options when choosing the right stone surface for your driveway. Talk to your local landscape supplier or landscape company who offers driveway paving to get more information on your options. Both stone pavers and gravel for driveway surfacing offer advantages – but each also has drawbacks. Explore all your options to determine which is best for your budget and lifestyle.
Was this article helpful?