What Are the Best Types of Landscaping Rocks?
Published on: March 6, 2021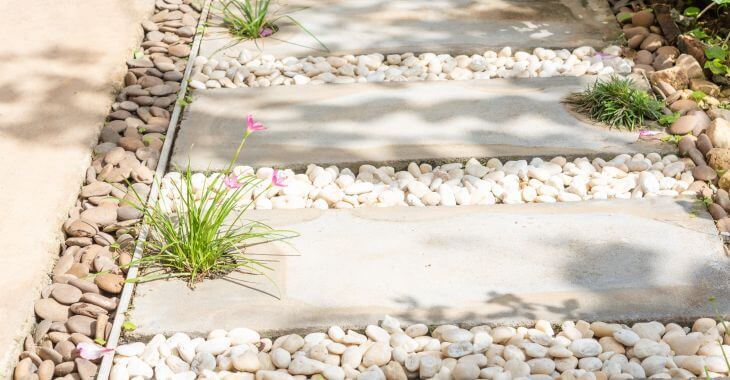 Are you planning to update your landscape design or add new features to your outdoor space? Stone is a gorgeous element that can add beauty to your landscaping, from creating beautiful hardscape features to functional paving. There are many different options available when using natural stone in your landscaping. Let's look at the best types of landscaping rocks and how they can be used to enhance your landscape design.
What is so great about landscaping rocks? For one, they can last a lifetime. Most natural stone is hundreds, if not thousands, of years old. Second, every stone is unique and gives your landscape project a customized appearance. It is also naturally water and element-proof, requiring little maintenance. Natural stone is beautiful, versatile and adds value to your property, making it a perfect element for paving, building, edging and other landscape uses.
The Different Types of Landscaping Rocks
Whether you want to build a fire pit to add warmth to your outdoor patio on cool nights or you want to build a completely new patio with natural stone, you have many different types of landscaping rocks from which to choose. Natural stone for landscaping varies from smooth river rocks to quarried slabs like slate and flagstone. Here are some of the various types of landscaping rocks and their most common uses.
Gravel and Pebbles

Crushed granite, pea pebbles and other types of gravel are popular types of landscaping rocks. These small rocks are used for ground covering and drainage. Gravel driveways and pathways can be completed with various types of pebbles or crushed rock; gravel is also needed for a layer of drainage under paved driveways, patios or walkways. Crushed rock can also be used for mulching and weed control.

Lava Rocks

Quarried from volcanic areas, lava rocks are light, porous landscaping stones that are popular for landscaping. Lava rocks can be used in fire pits to radiate heat and provide a natural beauty to your fire feature. Lava rock is also used for mulch and ground covering, with various shades of red, gray and charcoal-colored stones.

River Rock

Round, smooth stones of various types are called river rocks. These stones have been formed by water and come in all colors and sizes. River rock can be used for making dry creek beds or fire pits; it is also beautiful when used in masonry for fireplaces and retaining walls.

Flagstone

One of the most popular types of landscaping rocks is flagstone. This quarried rock comes in all shades of colors, depending on where it is formed. Flagstone slabs can be cut to different shapes and sizes. It is perfect for paving a patio or building a gorgeous outdoor fireplace, as well as many other landscape projects.

Fieldstone

Fieldstones are rugged stones that come in all shapes, sizes and colors. These stones can be used for creating classic retaining walls, rustic fire pits or used for edging around gardens. Fieldstone is also perfect for waterfalls, creeks and around garden ponds in your landscaping.

Landscaping Boulders

Large rocks or boulders can be functional or used as focal points in your landscaping. Boulders are perfect for blocking vehicles from driving across your lawn or protecting play areas. There are many different ways that boulders can add natural beauty to your landscape design and create interesting new looks for your outdoor space.

Slate, Marble and Travertine

If you want a high-end look to your landscaping project, choose quality types of landscaping rocks. Marble, slate and travertine are popular types of natural stone that are smooth and stunning for paving patios, pool decks, walkways and driveways. Marble and travertine are very popular for warm regions due to the cool surface, perfect for bare feet on hot summer days.
Where Can I Find Landscaping Rock Near Me?
If you are planning a hardscape and are looking for different types of landscaping rocks for your landscaping project, you need a good supplier. Most towns and cities have several places where you can find landscaping stones of all types, from gravel and paving slabs to river rocks and boulders. If you are wondering, "Where can I find landscaping rock near me?" try searching online for businesses that carry landscaping rocks or natural stone. Home improvement stores, garden centers and quarries are the best places to find landscape rock.
Natural stone is a perfect material for creating the ideal outdoor space. They come in all shapes, colors and sizes, and they can last for decades or more. There are so many different types of landscaping rocks that can be used for enhancing your yard and outdoor living areas. To learn more about the types of natural stones available for your next landscaping project, talk to your local landscaper or visit a landscape supplier that carries a variety of landscaping rocks.
Was this article helpful?