How to Use Lava Rock in Your Landscape Design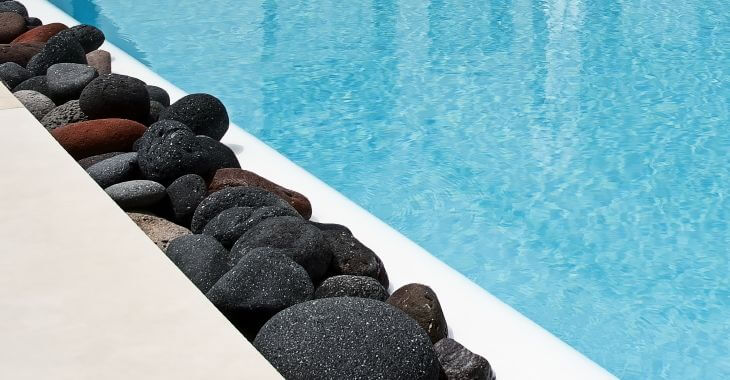 Natural stone is a perfect element for creating gorgeous effects in your yard and outdoor spaces. There are countless types of rocks that you can use to add different colors and textures to your outdoor style. One versatile stone you can use for creating new looks for your landscape design is lava rock. What is lava rock? Not only is this stone beautiful, but it offers many practical benefits for landscaping. Learn more about how to incorporate lava rock into your backyard oasis.
What Is Lava Rock?
Lava rock is a volcanic rock that is formed from hardened lava. As lava hardens, pockets of air create these sponge-like rocks. Unlike many types of stone, lava rock is porous and lightweight, making it easy to transport and move. Lava rocks come in many different shapes and colors, from irregular nuggets of brown, red, gray and black to shinier versions of lava glass that are smooth and reflective. The unique elements of volcanic stones can be used for a variety of landscaping options. Some of the benefits of lava rock include:
Heat-resistant
Fade-resistant
Lightweight
Insulating
Great for weed control
Preserves moisture
Multiple color options
Lava rock can be used for mulching, fire pits, edging, hardscape and much more. The earth tones are a wonderful backdrop to bright greens, blues and other primary colors in your landscaping. There are multiple ways you can use lava rocks throughout your landscape design for both appearance and purpose.
Lava Rocks for Firepit Design
One of the most common uses for lava rocks in backyard designs is in fire pits. Lava rock is light and heat resistant, a perfect rock for surrounding the flames of your fire. Gas fire pits are a perfect fit for the addition of lava rocks – these irregular, primeval stones bring a natural element to a modern fire pit. You can choose from dark reds, browns or rust colors to gray or black, depending on your color scheme. Lava rocks offer the rough textures that highlight the flames of the fire, especially when paired with a sleek concrete or smooth fire pit structure.
Lava Rock for Mulching and Edging
Earthy tones make lava rock perfect for ground covering in your landscape design. Whether you want to create a clean, professional look around your bushes and shrubs or need help with edging or weed control, lava rock is a perfect solution. Unlike wood chips and natural mulch that can deteriorate in moist conditions, lava rock offers a covering to your soil that will last for years and will not wash away. Some of the benefits of using lava rock for mulching in gardens or edging around structures include:
Light and easy to move
Insulates plant roots from heat
Helps retain soil moisture
Efficient at weed control
Comes in different shapes, sizes, colors and textures
Lava rock is wonderful for edging driveways, sidewalks, homes and pools to keep weeds at bay. It also works well as landscaping mulch for garden areas in both dry and moist weather conditions. The natural colors and texture of lava rocks are a great backdrop for all types of plants and landscaping features. You can buy lava rock that is crushed or in various pebble sizes that are perfect for mulching and edging around your yard.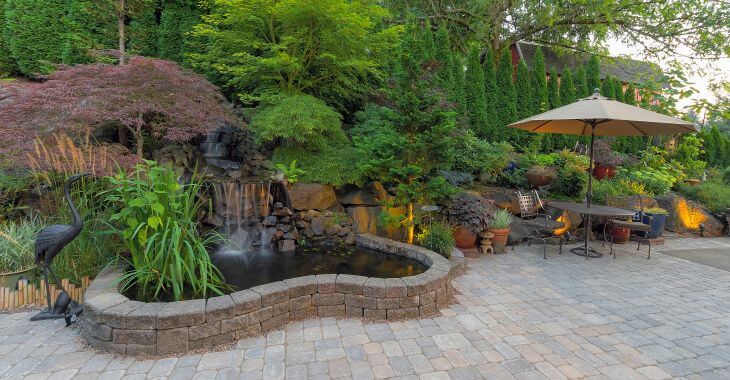 Hardscapes Made from Lava Rock
Lava rock can come crushed or in small stones. It can also be bought in larger rocks that can be used for building hardscapes. Large lava rocks are strong but weigh much less than river rocks and other boulders that are dense. This makes it easier to build hardscapes using big lava rocks. Some of the possible uses of lava rock boulders include:
Lava rocks for fire pit rings
Waterfalls
Edges for dry or wet creek beds
Planters for moss and lichen
Focal point décor
Building raised flower beds
Lava rocks can be easily transported without the back-breaking weight of other types of large stones. Plus, they are naturally insulating and store heat. You can use lava rocks of all sizes to enhance water features, fire pits, garden areas and edging throughout your outdoor spaces. While tough, lava rocks can be chiseled and shaped to your desired proportions.
The natural hues and unique texture of lava rock makes it a wonderful option for landscape design. If you are looking for the perfect rock to retain heat on your new gas fire pit or various size boulders for a dancing waterfall, lava rocks may be the perfect answer. You can find lava rocks at most quarries and larger landscape suppliers, or you can ask your landscaper about using volcanic rock for your next project. If you want a versatile material that will last a lifetime, consider the benefits of incorporating lava rocks into your landscape design.
Was this article helpful?