9 Ways to Utilize a Pergola in Your Landscaping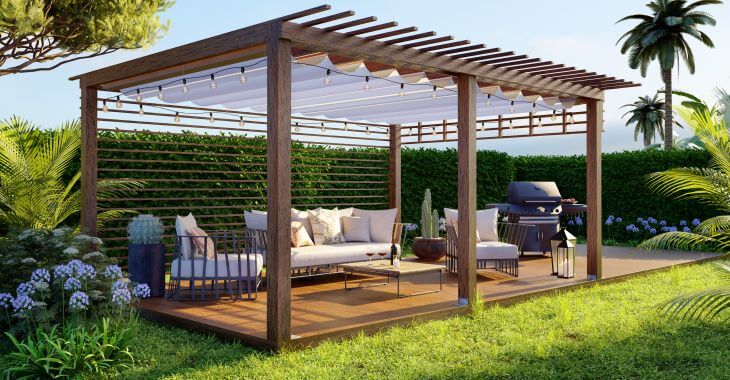 Are you looking for a way to upgrade your landscaping or outdoor living space? If you want to create more privacy or an interesting focal feature for your backyard, you may want to consider adding a pergola.
What Is a Pergola?
A pergola is a structure that adds privacy and shade to outdoor areas. It has vertical posts that support beams or lattices across the roof, which can vary in design. These are not enclosed structures like gazebos, but open-air areas that let in light, but can block some direct sun or wind.
Pergolas can be made from wood, aluminum, stone, vinyl, and many materials. They can be free-standing or attached to the side of a house, garage, or other structures. The open roof can be adorned with lights, hanging plants, vines, and other items, even a retractable or sliding roof.
Tops Ways to Use a Pergola
If your backyard looks bare or you want to designate an area for gathering, a pergola may be the perfect addition to your landscape design. You can make your own or buy a pre-made design. The following are nine ways you can use a pergola to improve your landscaping and outdoor living spaces.
1. Privacy on Your Patio
A pergola may be the solution if you feel on display in your backyard due to neighbors that can peer into your patio area. Pergolas have the benefit of allowing air and light in, but you can use vines and other materials to provide some privacy for your patio, blocking the view of your neighbors.
2. Designated Area for Dining
If dining alfresco is a favorite activity for your family, a pergola can add elegance to the experience. Considering hanging enchanting lights across the roof for dinners after dark in your defined dining area under a pergola. This can be the ideal place for entertaining friends or family.
3. Create a Corner Pergola
Want to cover part of your deck or make the most of an empty corner in your yard? A corner pergola is ideal for covering part of a pool or back deck or creating a private area in any right-angle space. This can be a cost-effective way to provide a partial covering for any deck or porch.
4. Hanging Pretty Plants
Pergolas are an ideal place to hang colorful flowers like fuchsias and pansies, as well as baskets of berries or vegetables. This provides decoration and privacy for your space. Make sure to put plants in the right spots for optimum sunshine or shade, depending on the type of plant.
5. Corner Cookout
Want an outdoor cooking area for your grill or smoker? A full or corner pergola can cover your cooking area while allowing out smoke at the same time. For open flames, consider a burn-resistant material like vinyl, stone, or metal for your pergola posts and roof to prevent the risk of fires.
6. Swing Away
Pergolas are a wonderful place to add a swing for a relaxing spot to read a book or snuggle with a loved one. These can be free-standing structures out in the yard with multiple swings, or a swing added to a corner pergola on your deck or patio for extra seating space.
7. Billowing Curtains
Pergolas can be adorned with long curtains that can be tied back at the poles or pulled across to create privacy or more shade on one or more sides. This can have a Moroccan or Arabian appearance with the right colors and fabrics, creating an exotic and colorful focal point in your backyard.
8. Vibrant Vines
Pergolas can be covered in various types of vines to provide more privacy. From ivy to grapes, you can train vines to climb your poles or grow across the beams or lattice on the roof. This creates natural shade and a stunning centerpiece for your landscape design and outdoor living space.
9. Retractable Roofs
Need more shade or protection from a sudden shower? Add a sliding or retractable roof that can quickly cover the inside of your pergola. This is great for dining pergolas to protect your guests and food from the elements when needed. Roof materials can be solid or sheer, depending on your preference.
Pergolas are very versatile for providing some shade and covering your outdoor areas without blocking light. They are a great way to create separate spaces in large yards, but they can also make the most of small spaces with options like corner pergolas that can fit almost anywhere.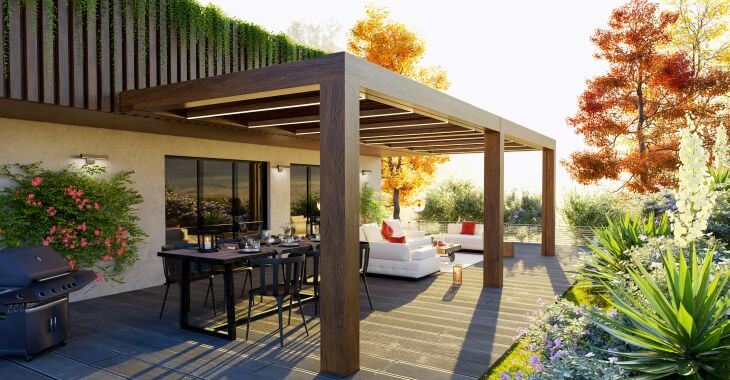 If you want to explore how to enhance your landscaping with a pergola, contact a landscape designer that offers pergola installation. Many professional landscapers offer hardscape installations like pergolas and can recommend the best way to improve your backyard with one of these structures.
Was this article helpful?