10 Ways to Use Decorative Rock
Published on: October 23, 2021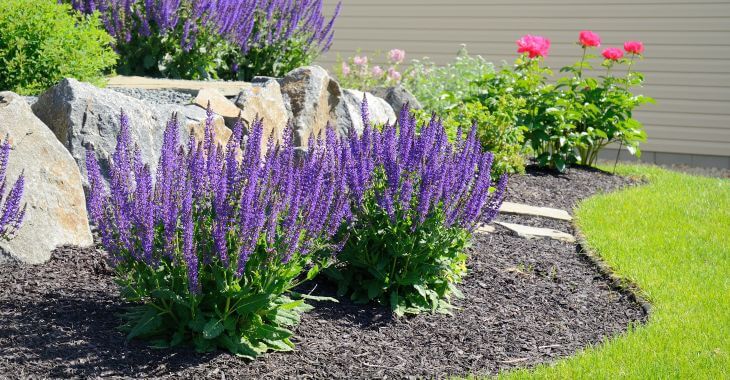 A beautiful outdoor space can include a variety of elements to hold your landscape design together. One of the fundamental materials used in landscaping is rock – it is natural, durable and versatile. Decorative rock comes in a wide variety of colors, sizes and shapes that can be used in many ways for form and function in your outdoor areas. If you are considering using decorative rocks for landscaping, here are ten ideas on how to incorporate them into your outdoor space.
1. Pathways and Walkways

An affordable option for creating functional and fantastic walkways is with decorative rock. You can choose small pebbles or large slabs of fieldstone – either way, you will have a lovely stone pathway around your yard or to your doorstep.

2. Mulch

Decorative rock can make wonderful mulch to help insulate the soil around plants or trees and reduce weed growth. Rock does not break down like bark or straw mulch, which makes it a low maintenance option for mulch. Rock also will not blow or wash away like other mulches and does not attract insects or pests to your backyard.

3. Dry Creek Beds

One of the prettiest options for drainage is the dry creek bed, which uses river rock in various sizes to create a water diversion. Not only can it improve the drainage on your property, but it adds a lovely focal feature with a natural appeal. You can create a meandering creek through your yard that will look gorgeous when dry or wet.

4. Rock Gardens

Rocks for landscaping do not always need to be functional. A rock garden uses decorative rock for an eye-pleasing focal point in your landscape design. Rock gardens are wonderful for regions with drought conditions or for anyone who wants to conserve water for eco-friendly landscaping. Rock gardens can include boulders, river rock, pebbles and all different sizes of stone.

5. Patios

From stone pavers to pebble rock, you can use decorative stone for creating a beautiful backyard patio. Whether you prefer the stunning appearance of bluestone, fieldstone or flagstone, or you like the affordability of pebbles, you can install a wonderful patio using stones or gravel rock. Patios made with decorative rock or stone can last for decades and require less maintenance or repair than paved patios.

6. Garden Ponds and Waterfalls

If you want a natural-appearing water feature, decorative rock will come in handy. You can use several different types of rocks for landscaping around a garden pond or to build a sparkling waterfall. Boulders, slate, river rocks and many other stones can border ponds or build the different levels of a natural waterfall for a spectacular addition to your landscape design.

7. Edging and Borders

A natural and lasting option for edging around gardens or creating a border for walkways is decorative rock. Rock can contain grass, pebbles or soil as edging and do not need to be replaced every few years like man-made borders. You can choose from a wide selection of colors and sizes of landscape stones to build borders around planting areas to match your landscape design.

8. Retaining Walls and Hardscapes

Larger stones and rocks can be the main material for many hardscapes. Natural rock retaining walls can be useful for controlling erosion or for creating different levels within your landscaping like sunken patios, sitting walls or raised flowerbeds. Other decorative rock hardscapes include fire pits and outdoor fireplaces, which add light and warmth to your outdoor living space.

9. Stepping Stones

Do you want a stairway on a slope or steps through a backyard creek? Decorative rock can create all types of natural steps for your landscape design. Flagstone or slate slabs are wonderful for building a natural stairway up a hill or slope. Asian garden designs use rocks as stepping stones through water features for a beautiful combination of natural elements.

10. Fences, Pillars and Furniture

Rocks can be used to build almost anything in your landscaping. Natural stone fences can last for many years, as can rock pillars for driveway entrances. Boulders make great bollards for keeping vehicles off your lawn or landscaping. Stones can even be used as backyard furniture for seating around firepits or tables for planters. When you use rock for building, you know that it can handle the elements and requires little maintenance.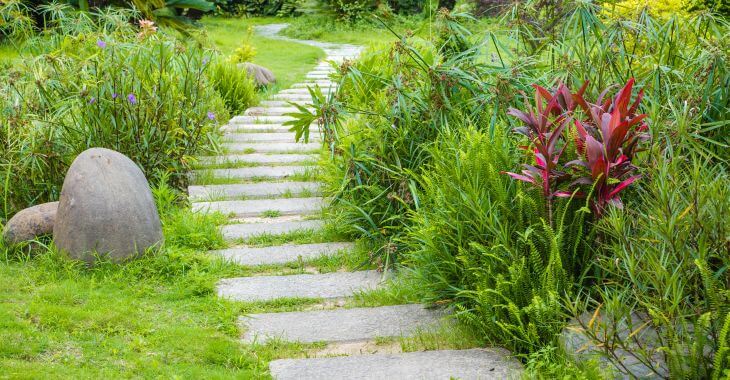 There are many ways to use rocks for landscaping your property. From small decorative rock pebbles to medium river rocks and giant boulders, there are so many choices of natural stones to enhance your landscape design. To learn more about the different ways to use decorative rock in your landscaping, talk to a landscaping professional. Stop by a local landscape supplier or call a landscaper in your area to discuss the best options for using decorative rock for your next landscape project.
Was this article helpful?