Which Peperomia Varieties Are Used in Landscaping?
Published on: September 12, 2021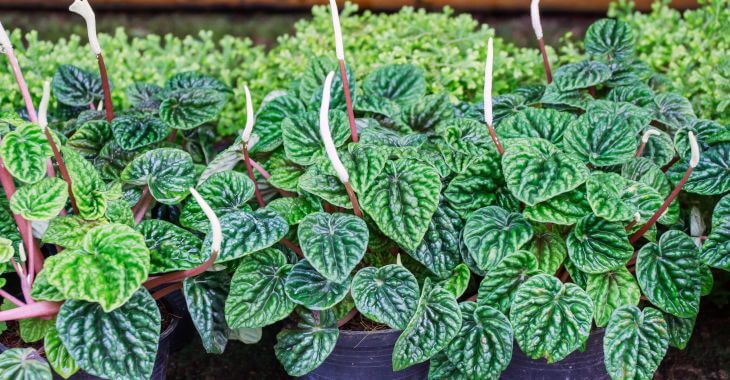 Peperomia plants, also called radiator plants, are popular houseplants due to their low maintenance and simplicity. However, these tropical plants can live outdoors and may add a tropical vibe to your landscaping. If you enjoy the fleshy leaves of succulents, many peperomia varieties look similar but enjoy a moister environment. Here are a few of the varieties of peperomia that may be a good fit for your patio or landscaping.
Peperomia varieties are native to tropical regions in Mexico, the Caribbean, South America and even Florida. You will find these plants in rainforests where they naturally receive indirect light and plenty of moisture, which is when these plants thrive. Since they are a tropical plant, they do not do well with any cold weather, which is why you usually see these plants indoors. However, during the summer or in warmer regions of the U.S., peperomias can be used in landscaping or for your outdoor living areas.
Best Varieties of Peperomia Plants
There are over 1,500 peperomia varieties to choose from, all with fleshy leaves and spiky flowers. While the leaves tend to be thick, they come in many different shapes, colors and textures. Peperomias are called radiator plants because they love a warm, humid environment. These plants thrive in 65-80 degree places, which is why they have been a popular indoor plant. But they can be used outside to add beautiful foliage to your deck, patio or backyard. Here are some of best peperomia varieties to use in landscaping.
Baby Rubber Plant

Peperomia obtusifolia is called by many cute names, including baby rubber plant, pepper face and baby rubber face. This plant has round, cupped leaves that are deep green and shiny. This plant is slow-growing and can sprout off-white, spiky flowers in the spring. It tends to be bushy and grow close to the ground. Like most peperomia varieties, baby rubber plant is low maintenance and likes loose, well-draining soil.

Trailing Jade Peperomia

Enjoy buttons of green with a trailing jade peperomia. This plant has small round leaves that are light green or jade in color. The stems grow long with the small button-leaves adorning them, often intertwining to create a bushy appearance. These plants will do well on a patio with indirect light and can be used in a hanging planter or small planter on a decorative table.

Watermelon Peperomia

Known for its unique leaves that are reminiscent of the mottling of a watermelon, the watermelon peperomia is a gorgeous option for your home or outdoor space. The leaves are oval with a pointy end, slightly heart or teardrop shaped. The darker green is striped with a whitish color, which gives it the watermelon appearance. This plant grows in warm regions – it can survive outdoors in places like Florida where it is humid and warm year-round.

Emerald Ripple Peperomia

If you want different textures for a small planter, the emerald ripple peperomia can be a delightful addition to your outdoor living area or sun room. Like most peperomia varieties, the emerald ripple likes indirect light, loose soil and moisture. The leaves are oval with a crinkled or puckered appearance with red stems. You will find different colors of leaves, from silvery-green to even a reddish hue. These are slow-growing and short, usually not growing beyond 18" in height.

Peperomia Jelly

Ginny peperomia, or peperomia jelly, is a beautiful option to brighten your home inside or out. This peperomia has gorgeous, long leaves that are multiple colors, with green in the center, white highlights and pink or red around the edges. This peperomia loves lots of light, but still indirect, and stays compact. This can be a lovely centerpiece for a patio table or anywhere inside your home.

Raindrop Peperomia

The stunning teardrop leaves on the raindrop peperomia are dark green and shiny, a lovely addition to any home or tropical outdoor area. This plant loves bright areas and thrives when it has enough light – the leaves can be up to 4" wide. The raindrop peperomia is also called the coin plant or coin-leaf peperomia due to it shiny, coin-like leaves.

String of Turtles Peperomia

Long stems of trailing small leaves are the crowning glory of the strings of turtles peperomia, or peperomia prostrata. These plants have delicate small leaves that look like little turtle shells and dangle along longer stems. String of turtles can be gorgeous hanging plants, but can also be planted in a variety of areas, as it is slow-growing.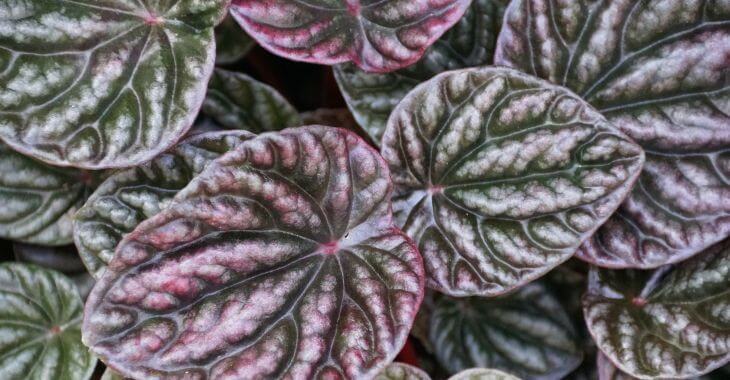 The peperomia varieties range from small to large leaves, stocky stems to trailing vines. All are very susceptible to any cold weather, which makes it challenging to grow these plants outdoors. However, you can add beauty to your outdoor areas during the summer with different varieties of peperomia plants or even in your landscaping if you live in a warmer region. Talk to your landscaper about which peperomia varieties will work best in your landscape design.
Was this article helpful?