Firebush Plant – Add a Burst of Color to Your Landscaping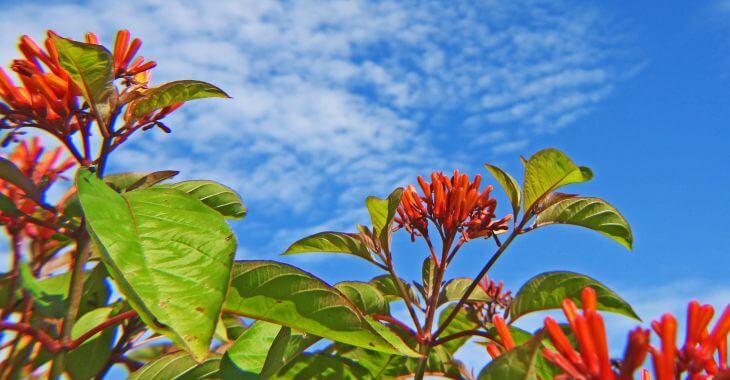 Looking for a way to add some red highlights to your landscape design? If you live in a warm region like Florida, Texas or one of the other Gulf Coast states, the firebush plant may be an excellent choice for adding color to your yard. Red is the fire; bush is the plant type. Together, the firebush plant, also called the firecracker plant or scarlet bush, is a great tropical shrub for bringing beauty to your landscaping. Here is what you need to know about the firebush and whether it may be the right choice to accent your landscape design.
Firecracker Plant Basics
The firebush or firecracker plant is a shrub or bush that is native to South America. The botanical name for the species is Hamelia patens, and it is a tropical bedding plant that thrives in hot climates. While the firebush plant is from South America, it does well in North American in the warmer southern regions with a tropical climate. You will find many bright red – like fire – bush plants adorning the landscaping in Georgia, Florida, Texas and other warm climates.
The firebush plant is actually a large shrub that can grow up to 10-15 feet tall and 3-6-feet wide. The firecracker bush is drought-resistant and thrives in the heat, which makes it perfect for adding color during the hot, dry summers in the south. The bush has red-orange tubular flowers that attract birds and butterflies for the nectar, which is a benefit to anyone who loves to have flying visitors in their yard. The firecracker plant also has berries that are edible and leaves/stems that are known to have medicinal qualities.
The bark on the firebush is smooth and light gray, supporting soft stems and green leaves that surround the bright flowers and dark berries. The firecracker bush provides colorful blooms from late spring through fall to add color in the hottest months of the year. Once the flowers bloom, the shrub will also produce its black, small berries. Both the red bursts of flowers and the berries can occur at the same time, or first the blooms and then the berries.
Planting Firebush Plants
The firebush plant desires as much sunlight as possible, so when planting, choose a spot with direct sun for most of the day. Firecracker bushes can survive in partial shade but tend to bloom more when exposed to sunlight at least 6-8 hours per day. The soil is another concern – you want well-draining soil for optimum health of the firebush plant. Planting a new firecracker shrub should be done in late spring or early summer to allow it to establish strong roots before the cooler seasons.
Firecracker Plant Maintenance
Once a firecracker plant is in place, it is one of the easiest shrubs to maintain. It requires little maintenance once it is mature, if you plant it in an area with excellent sunlight and well-drained soil. It will need frequent watering until it reaches maturity but once it is mature, it tolerates drought very well. During the first few years, you will want to deeply water the firebush every few weeks during the summer and fall until it reaches its full height and maturity. Adding fertilizer to the soil in the spring can improve its health.
You can watch it flourish with multiple trunks sprouting upward at a quick rate – it is likely to grow a few feet every year if it is in an ideal environment. If you prefer to grow a firecracker plant as a tree, you can remove the smaller trunks when it is young, retaining the largest single trunk, and remove any sprouts as they appear.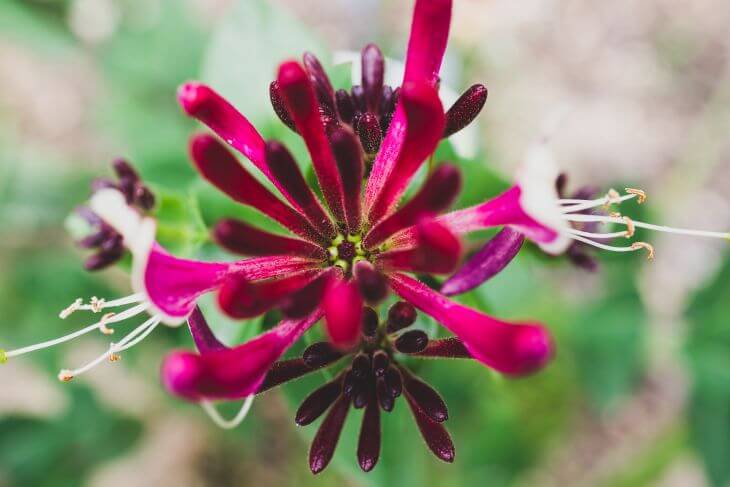 Since the firebush can grow upward of 10-15 feet, pruning may be required if you want to keep it contained. Trimming the bush to remove any damaged limbs should be completed in the early spring to help it flourish. Pruning to manage height or width can be performed during the summer to keep it within your size perimeters.
Another benefit of the firecracker plant is its excellent resistance to common diseases and pests. It has few enemies, but it will succumb to occasional infestations of insects like aphids, caterpillars and mealy bugs. If you do have any infestations of insects, talk to your local landscaper about treatments that will safely remove the pests without endangering your beautiful firebush plant.
If you live in a warm climate and want a low maintenance bush that can add a burst of color to your landscaping, consider the firecracker or firebush plant. It is perfect for hot climates, dry or humid, but it does not tolerate cold well. Talk to your local landscaper about the best place on your property to plant your new firebush shrub and for tips to keep it healthy for years to come.
Was this article helpful?