Different Types of Pothos Plants for Your Landscaping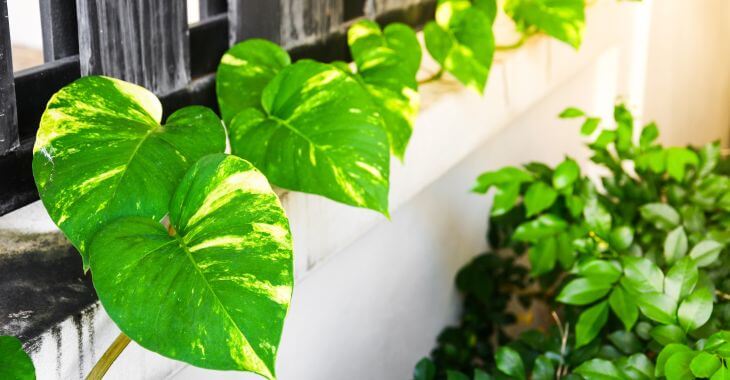 Pothos plants are a popular houseplant, but they can also be a wonderful addition to your landscaping. You may know the different types of pothos from planters found in offices, living rooms and kitchens, but they can be also used in some outdoor settings. If you live in a warmer region with mild winters, you may be able to enjoy pothos plants inside and outside your home. Here are some of the different types of pothos plants you can use in your landscaping or for adding green inside your home.
What Are Pothos Plants?
Pothos is a type of tropical ivy that is very popular as a houseplant. You likely have seen many pothos plants, as they are one of the easiest plants to grow and require very little work to maintain. Pothos are native to the South Pacific and are nicknamed the "devil's ivy," as it is very pervasive and can quickly take over when in its native land or a suitable environment. There are many different varieties and types of pothos with different colors and leaf shapes.
Pothos plants like warm weather – they prefer 70-90 degrees, but they can survive in temperatures that stay above 50 degrees. In most parts of the country, pothos are strictly houseplants, but may adorn a patio during the summer as long as the temperatures do not dip too low. Pothos prefer well-drained soil and shade – they do well in shaded, but bright areas with filtered sunlight. Do not overwater these vines – they will turn yellow and wilt with too much water.
Pothos Types for Landscaping
Pothos are wonderful for placing in pots around your patio or deck, and they make fantastic hanging plants to adorn a porch or pergola. They can also be planted as part of your landscaping to provide a tropical appearance or green, climbing foliage. Pothos is a vine, and it can be used with a trellis or for climbing structures to provide a beautiful green covering. Here are the pothos types that you may want to consider for patio planters or throughout your landscaping in warmer regions.
The Original Devil's Ivy – Golden Pothos

One of the easiest types of pothos plants to find is the golden pothos. This is a very hearty variety and is the one that is easiest to grow due to its resilient nature. The leaves are thick, waxy and heart-shaped on vines that can climb trees and trellises in your outdoor area, or dangle down from hanging planters on your patio. The leaves are mostly green, but you often will find flecks of gold or even white.

Marble Queen Pothos

If you want mottled white and green leaves and a slower-growing pothos, the marble queen is a popular option for pothos. The creamy ivory coloring lends to the marble description, and it requires bright, indirect light to keep its beautiful coloring.
Jade Pothos

For a deeper green foliage and tropical appearance, the jade pothos is one of the best types of pothos. Unlike the golden and marble queen varieties, the jade pothos does not have any variegation on the leaves if they are a true jade. The leaves are completely green without the white or gold flecks or marbling you will find on most pothos varieties.

Neon Pothos

For bright colored leaves, the neon pothos is ideal. As the name suggests, this ivy has neon-colored leaves that stand out and shine. The neon pothos needs plenty of light but still cannot be kept in direct sun. It is resilient and a stunning option with its shiny yellow leaves.

Patented Pothos

The University of Florida has created a few varieties of pothos that they have patented. The Jade and Pearls variety has smaller green leaves with white and sliver around the edges. The Manjula pothos has leaves that tend to curl, with creamy white and silver marbled throughout the leaves with the green.

NJoy Pothos

The Njoy pothos looks similar to the Manjula variety, but it tends to be a bushier plant with irregularly shaped leaves. The Njoy pothos can be pruned to keep it fuller – it does not climb as well as some other types of pothos.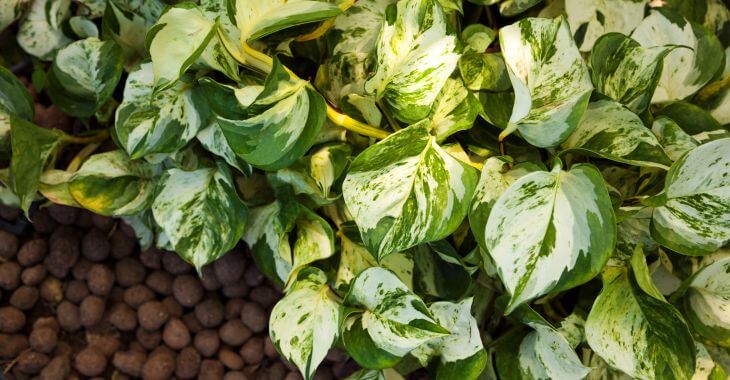 Choosing Your Pothos
There are many different types of pothos plants to choose from that can be planted in pots or added to your warm-region landscaping. If you want to plant your pothos outside, talk to your local landscaper. They can find the best option for your soil type and shade options with the maintenance level you desire. Keep in mind that some pothos are very invasive and can grow quickly when introduced to the right environment.
Pothos plants can be a wonderful addition to your outdoor areas and can thrive just as well inside as houseplants. To learn more about pothos types for landscaping, talk to your local landscaping professional.
Was this article helpful?