What Is Sod and How Is It Installed?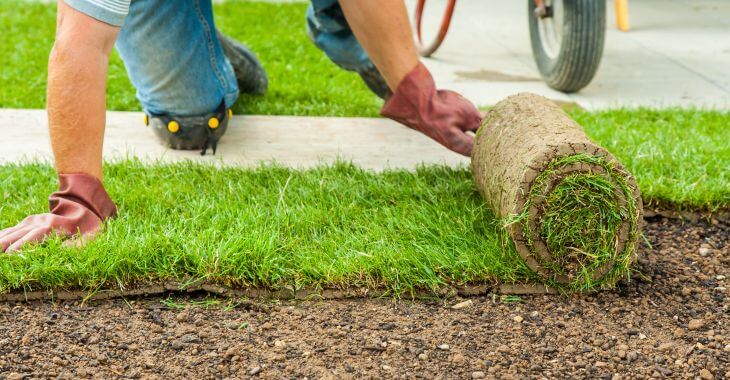 Are you tired of trying to bring your old lawn back to life or are you creating a new lawn from bare soil? If you want to skip the initial seeding and sowing phases of growing a new lawn, sod may be right for you. What is sod and how can it be installed on your property? Here is what you need to know about sod and how it can be installed to create a gorgeous new lawn.
What Is Sod and How Is It Made?
Sod is established grass that is harvested and transplanted to another area. In most cases, sod is created at a sod farm that specializes in growing healthy new grass that is cut and transported to landscapers and landscape supply stores. There are over a thousand companies in the U.S. that grow sod used to quick-start lawns and other grassy areas.
Sod is made by growing grass on fields of soil. The soil is fertilized, seeded and nurtured to create healthy adult blades of grass. It can take up to a year or longer to establish healthy, thick sod that can be harvested for transplantation. Once it is fully grown, the sod is cut into squares or long rectangles that are rolled up for convenience. The sod consists of the grass blades, roots and soil; some sod may have a biodegradable backing to help with moving and installing the sod. In most cases, sod is grown locally and transported to local landscaping companies to reduce the risk of sod dying before it is transplanted.
When and Where Is Sod Used?
Sod can be used almost anywhere you want to grow grass. For residential areas, it can be used to create a new lawn or replace old grass. Commercially, it is used for all types of grass turf. Golf courses, football fields, street medians and many other grass-covered areas use sod. Laying sod is much quicker to establish new grass, since it has already grown for about a year before it is harvested. Anywhere you want to grow grass without the hassle and time that it takes to grow grass seed is a good choice for sod.
Types and Sizes of Sod
Sod comes in a wide selection of grass types. Whether you need warm or cool season grass or want grass that grows slower or is drought-resistant, there is a sod option for you. Sod comes in popular grass-types like Bermuda, zoysia, St. Augustine and many more options. It also comes in different sizes, from flat squares to rolls that are easier to transport and install. Commercial sod is created in large rolls, while sod for residential installation is in smaller rolls that can be handled by one or two people.
What Is Sod Installation?
It takes more than just laying down a roll of sod to establish a new grass covering or lawn. Sod installation requires soil preparation and nurturing after the sod is added to ensure the grass takes hold. Sod installation starts weeks before the sod arrives. The basic steps of soil preparation for sod installation are as follows:
Till and loosen the soil at least two inches deep
Remove any weeds, rocks or debris from the soil
Add topsoil if necessary
Level or rake the soil
Fertilize soil for correct Ph balance – it is best to test the soil to find the right fertilizer
Tamp or roll the soil to allow the surface to settle
It is best to start the process of soil preparation about two weeks in advance if possible. You may also want to spray weed control to soil a few weeks before the sod arrives to reduce weeds from interfering with your new grass.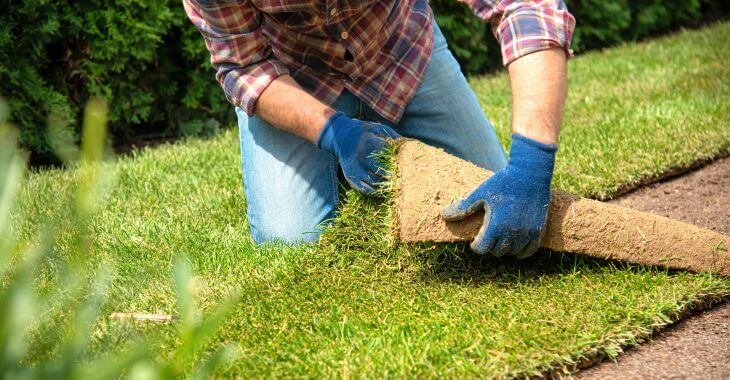 Sod is a living item that needs oxygen, sun and water to survive. Once the sod arrives, it needs to be rolled and put in place as soon as possible. A roller can be used to flatten bumps and press sod into the soil. Once it is installed, sod will need to be protected from traffic and watered constantly. The first watering should occur within 20 minutes of installation with at least an inch of water that soaks the soil 6-8 inches. The sod will need to be watered every day for about two months to help it establish new roots.
If you have wondered "What is sod?" and whether or not it would be a good option for your lawn, now you know the basics. Sod can give you a beautiful new lawn immediately without the effort of growing grass from seed. You can install sod yourself, but you may get better results by hiring a professional landscaping company to perform the soil preparation and installation. It is worth the investment in professional installation to make sure new sod is installed right.
Was this article helpful?