Red Fountain Grass and Other Red-Top Grasses
Published on: April 1, 2023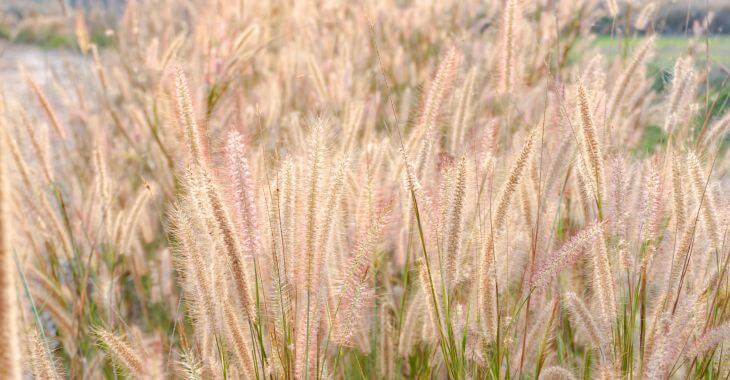 Are you looking to add a splash of color to your landscaping? Red-top grasses can bring beauty and functional benefits to your property, and they are low maintenance. Here are some of the benefits of red fountain grass and other red-top grasses that you can add to your landscaping.
What Is Ornamental Red Grass?
Unlike turf grass that is used for lawns and basic ground cover, ornamental grasses are allowed to grow tall and with less inhibition. They can add movement, depth and texture to your landscaping – with ornamental red grass, you also are adding bountiful color to your yard.
Ornamental grasses are used for a variety of reasons in landscaping. Red grasses like red fountain grass are beautiful and provide colorful filler. They can be used for hedging or for filling in background areas, but they are also useful for erosion control and provide organic fodder to the soil.
Types of Red-Top Grass
If a splash of red is what your landscaping needs, there are many options in ornamental red grass. The type you choose should be compatible with your growing region – many of these grasses do well in colder climates but some like red fountain grass like a warmer region to grow.
Red Fountain Grass

When many people think of red-top grass, they envision red fountain grass. This tall ornamental grass has gorgeous red leaves and feathery purple tops that can decorate your landscaping. These are warm-weathered plants that can grow to be 3-5 feet in height and require minimal maintenance.
While red fountain grass can grow year round in warmer regions, it is also used in colder climates. However, it will not survive a cold winter. It will either need to be brought inside or replanted the next year if you want this red-top grass year-after-year in a colder growing region.

Red Switch Grass

Do you want a red grass that is native to North America? One of the most popular red ornamental grasses in the U.S. is the red switch grass. It grows well in regions 4-9, which encompasses most of the continental U.S. This grass has red and burgundy combined for stunning splashes of color.

Japanese Blood Grass

As the name implies, Japanese blood grass has a deep red hue that is spectacular as an accent to your landscaping. The eye-popping red tops require full sun exposure to achieve during the summer, and the tops turn a burgundy hue during the fall. It is hardy in most regions except the northern U.S.

New Zealand Flax

Do you want to attract hummingbirds to your yard? Consider a flamboyant New Zealand Flax for your red-top grass. This ornamental grass has more than red tops, it has crimson stalks and blade-like leaves with bright yellow flowers that hummingbirds love.

Red Riding Hood

No big, bad wolves come with this show-stopping ornamental grass. Whether you want to fill a planter with this grass or let it fill your landscape beds, it is a truly stunning red grass. It is also known as purple fountain grass and could pair well with the popular red fountain grass.
Red riding hood plants have feathery leaves of burgundy and flowers that pop out about 3-4 inches. This plant grows best in warmer climates, suited for the southern states of the U.S.

Red Baron Grass

Another beautiful addition to your yard is the red baron grass. This is one of the hardier red grasses and it can do well in growing regions 5-9 in the U.S. This ornamental grass grows up to almost two feet tall and it has bright red tops during the summer. As fall approaches, the entire stalk turns burgundy.

African Fountain Grass

Fountain ornamental grasses are tall and the tops bend over creating the illusion of water flowing in a fountain. The African fountain grass offers this beautiful shape and movement, swaying in the breeze. It grows up to five feet tall and has reddish tops for a pop of color.
African fountain grass is best planted in warmer climates. It works great for filler in planters, landscape beds and for erosion control.
Indoor/Outdoor Red Grass
Red ornamental grasses are wonderful for your landscaping, but they can also be fantastic for indoor planting. Many people use these grasses in their patio planters during the summer months, then bring them inside during the winter. Some of the most popular indoor/outdoor varieties include:
Red fountain grass
Red hook sedge
Red riding hood
Cordyline Charlie boy
New Zealand flax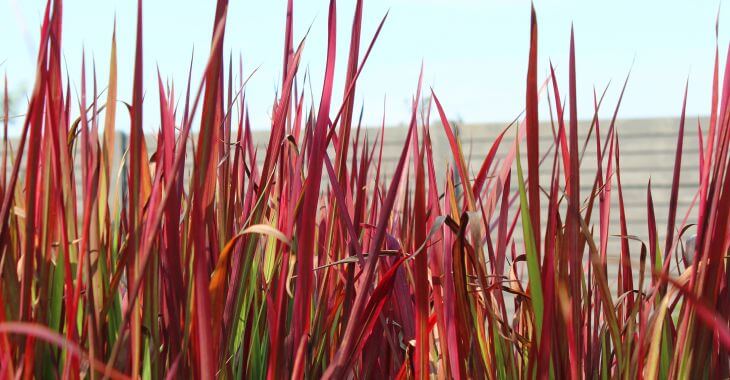 Red fountain grass and other red-top grass options can bring crimson, burgundy, purple and other reddish hues to your landscaping and home. To learn more about red grass options that are compatible in your climate and growing region, talk to your local landscaper for suggestions.
Was this article helpful?