What Is Hardscape Landscaping?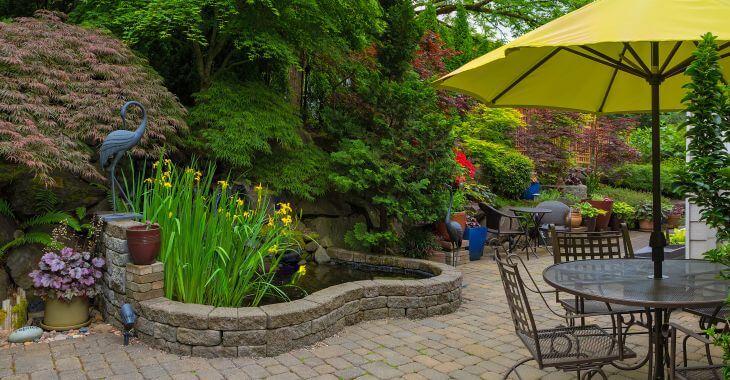 Landscaping is not only about mowing lawns and trimming hedges. Hardscaping is one of the elements of landscape design and installation which takes extensive skill and experience. What is hardscape landscaping? Here is what you need to know about this type of landscape service.
In landscape terms, anything that involves planting or maintaining the plants and soil is softscaping. This includes mowing, edging, fertilizing, planting, weeding and routine yard maintenance. What is hardscaping? It includes building many types of structures that are used in landscape design.
In layman terms, hardscapes are man-made structures that are used in landscaping. This can include the following:
Pathways, walkways and sidewalks
Patios and decks
Fire pits and fireplaces
Water features – ponds, waterfalls and creeks
Retaining walls
Flowerbed structures
Rock formations
There are many different types of hardscapes that can add beauty and function to outdoor spaces. These are made using a variety of materials, which can include wood, natural stone and concrete.
What Is Hardscape Design?
Like landscape design, hardscape design is the planning and artistic choices for a hardscape installation. Landscapers that perform hardscaping services must determine the size, materials, color and other elements of a hardscape installation based on a customer's specifications.
A hardscape design can be part of the overall landscape design, but it usually requires more preparation than the softscaping elements. There may need to be building licenses for adding plumbing or electrical elements and materials may need to be specially ordered for the project.
How Much Do Hardscapes Cost?
Each patio, retaining wall and other hardscape can vary greatly in the amount of time needed for installation and the total cost. Property owners can choose different materials that impact the cost – for example, natural stone is generally much more expensive than concrete or man-made stones.
Labor and expertise are also part of the cost of a professional hardscape installation. When you hire a landscaper to install your new outdoor fireplace or garden walkway, the cost involves how long it will take to complete, as well as the materials used.
The good news is that many hardscaping elements can add functionality and value to your property. The investment into installing a retaining wall, patio, waterwall or other hardscape can improve the beauty and usefulness of your yard or commercial property.
Natural Stone Hardscapes
Natural stone is one of the most popular materials for hardscape projects. Rock is a natural outdoor element, which means it can last a lifetime and beyond. From river rock to flagstone and slate, there are many types of stones to create incredible outdoor structures, including:
Fire pits and fireplaces for light and heat in your backyard
Retaining walls for erosion control and utilization of hills or slopes
Stunning walkways made from flat natural stonesv
Natural stone patios and outdoor kitchens
Natural stone is more expensive than some other materials but it requires minimal maintenance and it can last for decades, even centuries. A less expensive option used is concrete or cement, which can be used to make many of the same hardscapes as natural stone.
Wooden Hardscapes
Wood is a versatile material that can help create functional structures and hardscapes on your property. Whether you want to have a shelter built or an enclosure for your yard, wood may be the best material for enhancing your landscape design. Wooden hardscapes include:
Fencing to protect your property and privacy
Decks for outdoor living spaces off the ground
Gazebos for shade and shelter
Arbors and pergolas for climbing vines and beautiful focal points
Wood can also be used for creating small retaining walls or raised flower beds with landscape or railroad timbers. It does require more maintenance than stone, but it is often less expensive for many hardscape projects.
Water Hardscapes
When planning a landscape design, one hardscape category that can bring movement and cool beauty is water features. These hardscapes can add the relaxing sound of flowing water with interesting natural visuals and movement. Some popular water hardscapes you can add to your yard include:
Waterfalls or waterwalls to cool the air and bring movement to your yard
Fountains as beautiful focal points in your front or backyard
Garden ponds to bring fish, birds and other wildlife to your property
Wet and dry creeks for flowing water and stone around your home
Water, stone, wood and other materials can be used to create incredible hardscapes that enhance your landscape design. They can be purely for aesthetics or provide functional purposes. When combined with your softscaping, hardscapes can create the ideal outdoor living space.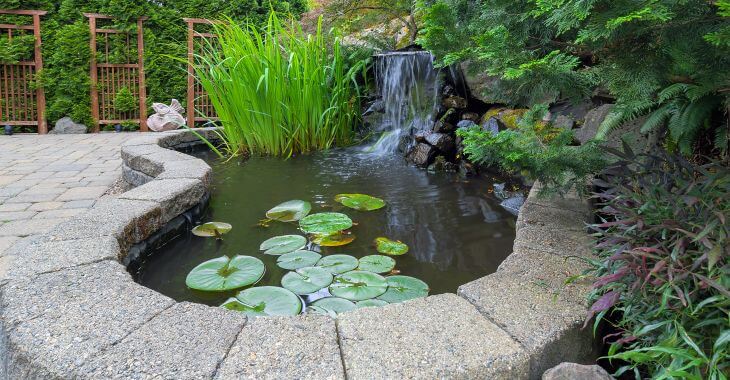 What is hardscape landscaping? It is the ideal way to add new features to your outdoor areas. To explore the many options for adding hardscaping elements to your property, contact a local landscaper. Make sure they are experienced in hardscape design and installation for the best results.
Was this article helpful?