What Are the Best Drainage and Erosion Solutions?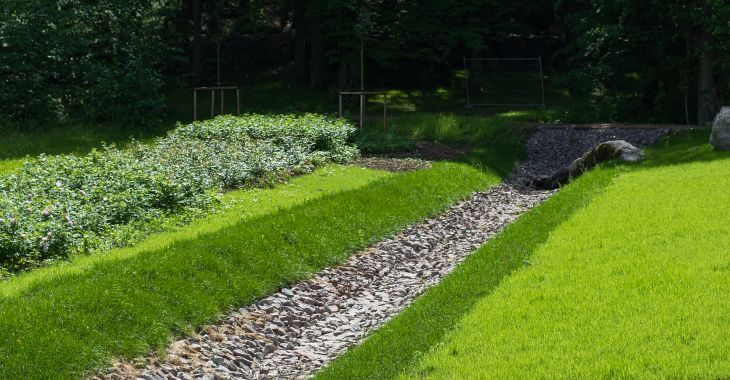 Water drainage is a vital component to maintaining your yard and property. When you have poor drainage, it can become a costly problem that can ruin your landscaping and impact your home. If you have erosion problems, you need to explore the best drainage and erosion solutions.
Erosion is a natural phenomenon, but it becomes worse within an area that is man-made. The changes to the soil and flora to build homes and create landscape designs can result in poor storm water control. If water cannot drain correctly, it can pool and saturate your yard, resulting in the following issues:
Muddy or soggy lawns
Foundation and paved areas sinking
Leaking basements
Drowning plants
Increased pests like mosquitoes
Slopes with erosion or mudslides
Drainage and erosion control efforts can protect your property from damage. By installing the right drainage solutions, you can prevent pooling water, slope erosion, concrete sinking and other problems that occur.
Storm Water Control
Storm water can give your plants and lawn the moisture they need but too much can be detrimental. If you have the right drainage in place, the water can seep into the soil. This requires drainage layers that allow the water to slowly, but steadily, perforate the soil.
When you are considering what to use as a drainage layer, you want materials that leave pockets of space when compacted. Gravel is ideal and used in many drainage and erosion solutions that can be installed in your yard, many which can be both beautiful and functional.
Drainage and Erosion Control Features
If you have drainage control problems, there are many different options to direct your storm water away from your landscape beds, foundation and paved areas. Some are underground and invisible, while others can contribute to your landscape design.
French Drain

French drains are a piping system that are placed underground to allow the storm water to dissipate throughout the yard. The pipes have perforations that allow the water to flow through and drain into the soil. They are placed in trenches lined with drainage rock, then covered with soil and turf.

Dry Creek Bed

One of the most beautiful drainage and erosion solutions is a dry creek bed. An indented "creek" is made within the yard that is lined with drainage rock such as gravel and covered with beautiful river rocks. This gives water a convenient place to pool before it seeps into the soil.

Swales

Swales are depressions that run along erosion areas, usually at the base of a slope or hill. These can include a French drain or drainage rock within the depression to facilitate drainage, and water-loving plants can be planted along the edges to use any excess water.

Perforated Paving

A hardscape that can be useful for encouraging proper drainage is pervious paving methods. These are paved areas that are built with gaps to allow water to flow through, versus running off the edges and creating drainage problems. This can be used for patios, driveways and sidewalks.

Rain Gardens

Another beautiful landscaping option that can be used for drainage and erosion control are rain gardens. These are depressed landscape beds that are designed to collect water while feeding beautiful flowers and other flora that enjoy very moist soil.
Rain gardens are usually placed at the bottom of slopes, similar to swales, or combined with a French drain system. The beds can be anywhere from 5×10 feet or larger to collect the storm water runoff. The bed is dug about two feet deep and filled with sand, mulch and drainage rock.
There are many plants that help with erosion control and may be used in swales and rain gardens. These include perennial plants that will come back year after year, like ferns and sedges. Along the edges, you can plant shrubs and evergreens that thrive with standing water.
Landscape Design and Water Control
A good landscape design incorporates drainage and erosion control within its elements. A beautiful landscape bed that adds beauty and depth to your yard can double as a drainage solution. When planning your landscape design, it is important to first determine the best drainage option.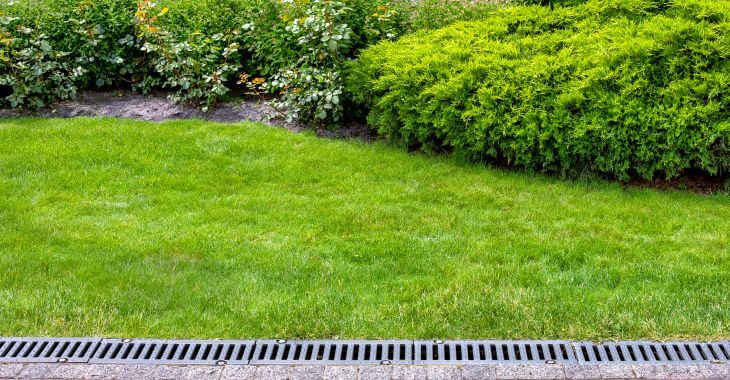 Gravel alone can be used as an effective drainage solution. When you look at what to use as a drainage layer, gravel is usually the most cost effective and natural solution. A gravel layer can be added to slopes to help stop erosion and allow water to naturally seep slowly into the soil.
If you have drainage issues or are planning a new landscape design, talk to your local landscaper about the best drainage and erosion solutions for your property. With the right drainage control feature, you can protect your property and keep your lawn, home and landscaping beautiful year-round.
Was this article helpful?