Planning for Landscape Installation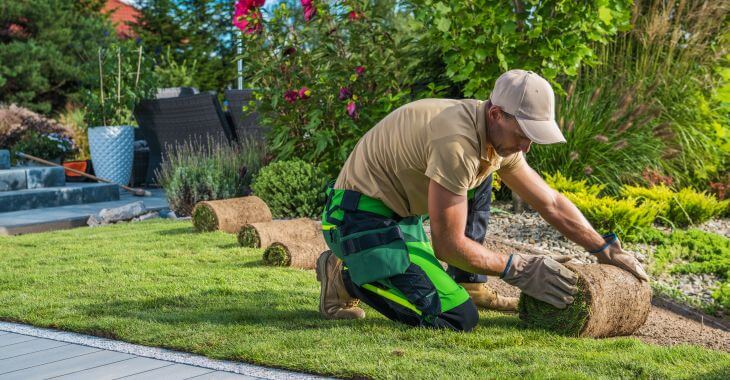 A beautifully landscaped yard or property does not happen by accident. It takes extensive planning and expertise to create the right balance of focal features. If you are ready to redesign your landscaping, you need to have a plan. Here are some tips on planning your new landscape installation.
Analyzing Your Property
Before you begin your project, the first step is to complete a thorough analysis of your property. Whether you are installing a brand-new landscape design or redesigning an existing landscape, you need to know what you are working with before planning your design.
In most cases, property analysis needs to be completed by a landscape professional. However, if you are a savvy DIY homeowner, you may be able to do this yourself. Some of the elements you will need to consider include:
Sun and shade portions of the yard
Soil analysis
Drainage considerations
Slopes and hills
Size
Any underground electrical or plumbing
You may have a vision in your head of what you want for your landscape design and installation, but you need to make sure your property is prepared for planting and other installations. A complete analysis will give you an idea of what needs to be accomplished before your landscaping installation.
Landscape Design
Once you have your site analysis completed, the design process can begin. This is the most important part of creating a gorgeous landscape that will enhance the beauty, function and value of your property. Like an architectural project, this should be a written blueprint of your property.
A landscape design concept begins with the goals of the property owner. Do you want a large outdoor living space, walkways, water features or lawn areas? What are your maintenance expectations? Listing the goals and expectations can help ensure that your landscape design meets the criteria.
Once you know what you want, the next step in landscape design is creating your blueprint. This is a layout of your property and where your landscape installation elements will be placed. While the design can be changed as you go, this sets the stage for the beginning of your landscaping installation.

Prepping Your Property
Now that you know what you want, you need to address any issues that were found in your site analysis to accomplish your goal. Before landscape installation, you may need to make changes to the soil or add drainage solutions. You want to perform any alterations before your installation.
Landscape installation preparation may include tilling or amending your soil. This can be very important for gardens, sod installation and seeding. Leveling or grading may be used for an even lawn or to control drainage on your property.
If you are installing French drains or irrigation systems, this should all be completed before you begin your landscape design and installation process.
Staging Your Landscape Installation
Once you have finished preparing your property for your landscaping installation, the real fun begins. This is when your vision begins to become reality. Your soil is fertilized and level; your water control elements are in place. Now you can begin your landscape installation.
There are considerations when you are determining what landscape elements to design first. In most cases, planting lawns and gardens and adding fencing are the last steps in the process. This is due to the disruption that other features can require. Here are some tips:
Patios and paved areas. Many paving projects will involve heavy equipment and materials. Your paved areas may be best installed as one of the first elements.
Water features, pools and spas. If you are installing water features, these will also need to be done in the early stages since they require plumbing, electrical and other necessities.
Planting beds. If you are installing raised planting beds, these can be added in the earlier stages to avoid damage to lawns and other features.
Lawn installation. Once your hardscapes, water features and planting beds are in place, you can install sod or begin seeding.
Final touches. Planting your shrubs, beds, trees and planters can add the pop of color and depth. If you are adding a fence, it should be completed near the end to avoid limiting delivery of supplies or using large equipment.
There are many things to consider when you are performing a landscape design and installation. You need to know the land and choose the right time of year to ensure that it all comes together the way you envision. A professional landscape advisor can make the entire process go smoothly.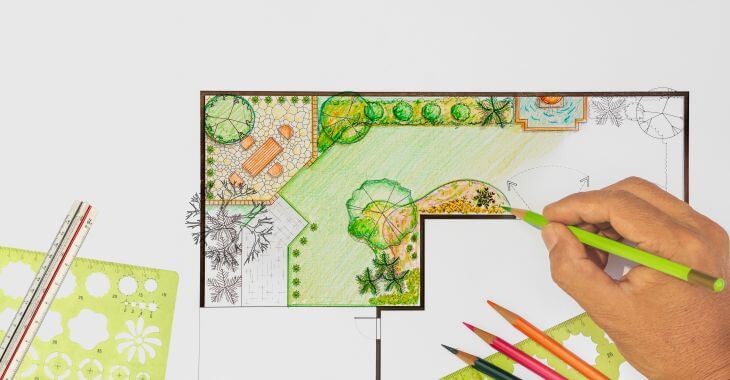 A well-planned landscaping installation can save you time and money. There are many mistakes that can be avoided when you take the time to carefully plan and prepare for your landscape installation. It is worth the investment to have a professional on your side to reach your goals.
Was this article helpful?