What Are the Cheapest Retaining Wall Options?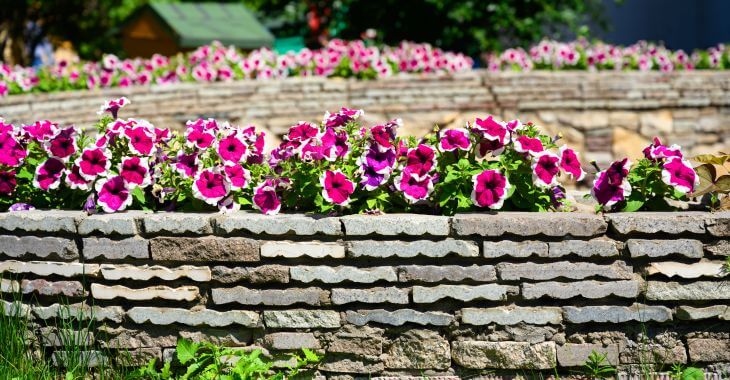 Retaining walls can be used for various landscaping projects, from raised flower beds to stabilizing a slope or hill. They also can be completed using various materials, some more expensive than others. There are several possibilities if you are looking for the cheapest retaining wall options.
What Is a Retaining Wall?
Retaining walls are structures that support soil in a lateral direction. They can hold in the dirt for a garden or support a hill or slope. You will see retaining walls made from stone, brick, wood, and manufactured materials to create the following projects:
Stop erosion on a sloped area
Create a path, road, or driveway
Terrace a hill for planting
Sunken outdoor living areas
Raised planting beds
Sitting walls
Retaining walls need to be sturdy and should be made to last for years. The cost of building a retaining wall can vary significantly based on the materials used, size, and labor expenses. You can save money by building your wall on your own or by choosing the cheapest materials.
Innovative and Inexpensive Retaining Wall Ideas
If you are looking for inexpensive, cheap retaining wall ideas, there are ways to cut costs when building a new retaining wall. Frugal homeowners can find a variety of materials that can work well for building a functional retaining wall if they are not concerned with appearance.
Scrap Wood

While buying timbers or wood to build a retaining wall is common, you can save money if you have access to scrap wood. You may be able to obtain used pallets from some businesses for free or at a low cost. Cord or firewood can also be stacked and used as a retaining wall.

Collect Stones

Buying rock can be expensive, but rocks in many places can be collected for free. If you have access to a river bed or rocky area, you can gather rocks to build your retaining wall. These can be mortared, stacked, or used within gabion walls, which are wire cages filled with gravel or rock.

Glass Bottles

Reuse old bottles and build an interesting retaining wall. Glass bottles can be used to build a colorful wall in your garden or yard. This type of wall is not strong enough to support a slope, but it can be used for edging or decorative purposes.
Cheapest Retaining Wall Materials to Buy
If you want to build a retaining wall but do not have access to free materials, you will need to head to a landscape supply store. You can find various materials to build your wall, starting at less than ten dollars per square foot. Some of the least expensive options are the following:
Concrete interlocking blocks. Concrete blocks are one of the easiest materials to use when building a retaining wall. They are uniform in shape, making them easy to stack. The price varies depending on the type, size, and color, but they are one of the cheaper stacking materials you can buy.
Landscape timbers or railroad ties. Wood is one of the cheaper materials for small retaining walls. Railroad ties are more expensive, but they are made to last for many more years than landscaping timbers.
Poured concrete. Mixing and pouring your own concrete can be an inexpensive option for building a retaining wall. You will need to build forms and have knowledge of working with concrete if you are building the wall on your own.
Cinder blocks. There are cheaper varieties of cinder blocks that can be used for building a retaining wall. These can be stacked or mortared for a sturdier wall.
Bricks. If you love the look of brick, consider these blocks for creating your wall. You will need mortar, but you can choose from various colors for a gorgeous appearance.
Stone veneer. Natural stone walls are beautiful but are among the most expensive materials. You can get the look of stone with veneers that cover a cheaper wall material. This is still more expensive than other options but much less than a solid stone retaining wall.
Before shopping, figure out the size of the wall you want to build. This can help you determine how much material you will need and how much it will cost to complete.
DIY or Hire a Landscaper?
Building a retaining wall yourself will save you money, but this is not always the best idea. Consider hiring a professional landscaper if the wall supports a slope or holds back a hill. It may cost you more in the long run if the wall does not function correctly and needs to be replaced.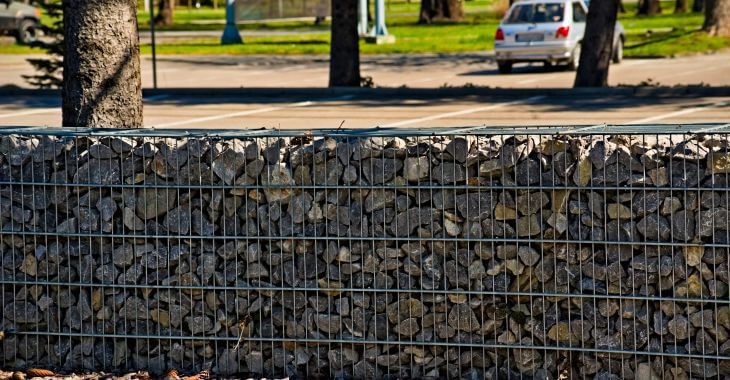 The cheapest retaining wall options are recyclable or collected items you do not have to buy, but they are not necessarily the most attractive or functional. If you want a sturdy wall that adds beauty to your landscaping, talk to a professional landscaper about the options available.
Was this article helpful?