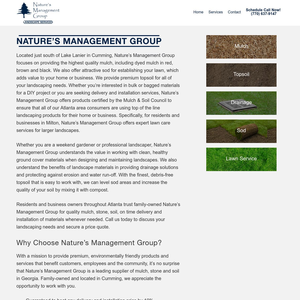 About Nature's Management Group
Based in Cumming, GA, family-owned Nature's Management Group is a leading supplier of high value mulch, stone, premium soils and attractive sod for establishing residential and commercial landscapes. With products certified by the Mulch & Soil Council, Nature's Management Group delivers and installs the highest quality of products and services to Alpharetta, Cumming, Dunwoody, Roswell, Johns Creek and Sandy Springs. In turn, expert lawn care services for larger estates and commercial properties are provided for those in Milton, including The Manor and surrounding townships.
Continuing its mission of providing the highest quality ground cover products and materials, Nature's Management Group understands the value of working with clean, healthy soils. This is why we take pride in our excellent line of garden soils, raised bed soils, planting mixes, compost, worm castings, top soils and decorative ground cover materials, including mulch, rocks, bark and organic mixes. Whether you are a weekend gardener, professional landscaper, or you are seeking a solution to a drainage problem or specific materials to protect against erosion, we deliver and install the bulk or bagged varieties that you need, and we guarantee to beat other prices by 10%.
Nature's Management Group is proud to provide premium products that not only benefit our customers but also benefit our employees, the community and nature. We appreciate the opportunity to work with you and invite you to call today to discuss your unique landscaping needs and secure a price quote.
Mulch Delivered and Installed
As a premier supplier of mulch in Georgia, Nature's Management Group focuses on delivering both bulk and bagged varieties to a number of customers, including brokers, convenience and hardware stores, distributors, fundraisers, home and garden centers, grocery stores, landscapers, municipalities and more. Our premium mulch selections include:
Black Mulch
Brown Mulch
Cypress Mulch
Mini Nuggets
Organic Mulch
Pine Bark
Red Mulch
Rubber Mulch
Playground Mulch
Whatever your project entails, we offer professional installation as an added value and convenience for you. We stand by the following:
Guaranteed to beat any delivery and installation price by 10%
$45 per yard (based on colored mulches)
$35 delivery charge (for all products)
Playground-safe mulch (ask us about it!)
10% discount off of regular priced products for schools and daycares
5% military discount
5% senior discount
7 yard minimum for delivery (under 7 yards- add additional $7 per yard)
FREE delivery with over 18 yards (DIY) purchase
Group discounts
Up to $100 referral fee on installation ONLY (delivery referrals receive $20 on next delivery)
At Nature's Management Group, we protect your investment by delivering high quality products and services for your residential or commercial landscape. Call today!
Services
Lawn Care
Mulch installation
Sod installation
Soil installation
Nature's Management Group Locations
Address
3555 Trotter Dr
Alpharetta
,
Georgia
30004
Languages spoken: English
Opening hours
monday:

9:00 AM - 5:00 PM

tuesday:

9:00 AM - 5:00 PM

wednesday:

9:00 AM - 5:00 PM

thursday:

9:00 AM - 5:00 PM

friday:

9:00 AM - 5:00 PM

saturday:

Closed

sunday:

Closed