How to Get Spray Paint Off Concrete
Published on: January 22, 2022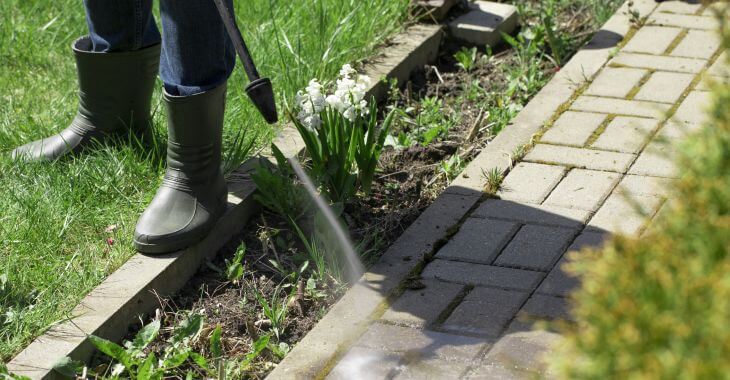 Whether it is accidental overspray or graffiti, if you have paint on your sidewalk or driveway, it can be a pain to remove. The good news is that it is possible to clean your concrete and make it look new again. If you want to know how to get spray paint off the concrete, here are some professional tips.
A splatter of paint or a tag from a graffiti "artist" can make your concrete look messy. Paint will wear off eventually on its own, but that can take years to occur. To remove paint from concrete, you have a few different options to have your concrete look as good as new.
Paint Strippers or Thinners
When removing paint from concrete, you can use chemical solvents. Both paint strippers and thinners can break down paint and make it easier to clean off the surface. These toxic chemicals can impact your respiratory system or burn the skin, but you can use them safely.
To remove spray or other paint from concrete, first, clean the concrete. Use a clean cloth to apply the paint stripper or thinner to the affected area. You will want to use one part of the cloth at a time, choosing a clean portion for each new application until the paint is completely gone.
You will want to wear protective gear when using paint thinners or strippers. Use gloves and goggles, and you need the area to be well ventilated. This may not be the best method for painting on indoor concrete like in a basement or closed garage. Ensure you closely follow the manufacturer's instructions.
Power Washer
One of the best ways to remove paint from concrete is with a power or pressure washer. This method is convenient and quick, using the force of water to strip away unwanted paint from the surface. There are electric and gas-powered washers that can effectively clean concrete and remove paint.
To use a power washer for removing paint from concrete, you want to wear the manufacturer's recommended protective gear. Standing about ten feet from the surface, begin at one end of the painted area, spraying back and forth to remove the paint.
Pressure washers are great for removing paint from concrete, especially in larger areas. However, it can be expensive to buy or rent one for a one-time project if you do not own one. This method may also be difficult to use indoors as it can spray an excessive amount of water.
Graffiti Remover
There are multiple products designed to remove paint or graffiti. They can be liquid, sprays or paste, but all can remove spray paint from most surfaces, including concrete. This is an inexpensive way to remove smaller areas of graffiti.
You will likely need protective gear when using graffiti remover. Follow the instructions on the label to get the best results. These products break down the paint, but they are not as quick as paint thinners or strippers. You can wipe away the paint – be careful when applying to vertical surfaces to avoid dripping paint below.
Sandblaster
If you have heavy paint to be removed from concrete, a sandblaster may be a good option. This is not a good choice for those unfamiliar with this equipment as it does require finesse. It is also an expensive tool, so it is not cost-effective for a one-time concrete cleaning.
Sandblasters can quickly remove a layer of paint, but they can also remove concrete. You want to be careful not to damage your concrete when using this paint removal method. It can also be harmful to the skin and eyes, requiring careful use with protective gear in place.
Angle Grinder or Sander
Like sandblasting, sanders and angle grinders can strip paint off concrete using a high-speed, gritty application. These tools are convenient for removing paint indoors where you do not want to use chemicals or power washers. You can focus on a small area and quickly remove a layer of paint.
If you want to know how to get spray paint off the concrete with an angle grinder or sander, make sure to read the instruction booklet. You will need the right sandpaper or disc designed for stripping paint or other substances.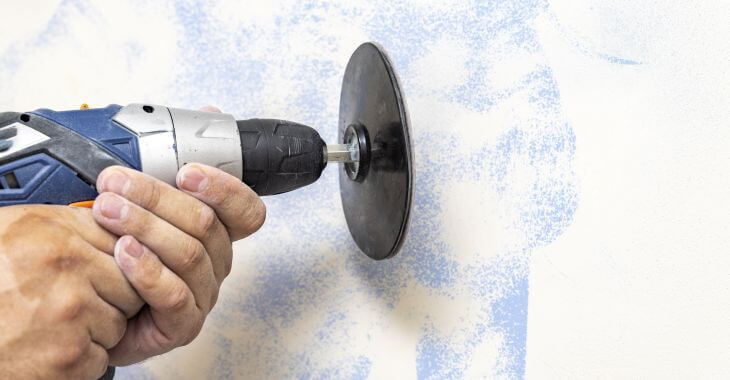 When sanding away paint from concrete, one thing to keep in mind is the dust created. This can be dangerous to breathe in, so you want to wear a ventilator or appropriate mask. Using a collection bag on the grinder or sander can reduce the dust spray and contain the mess.
There are many options when it comes to removing paint from concrete. If you do not have the right equipment, it may be best to hire a professional. Many landscaping companies offer concrete cleaning and can effectively remove paint from your concrete sidewalk, patio or driveway for you.
Was this article helpful?