Tips on How to Clean Composite Decking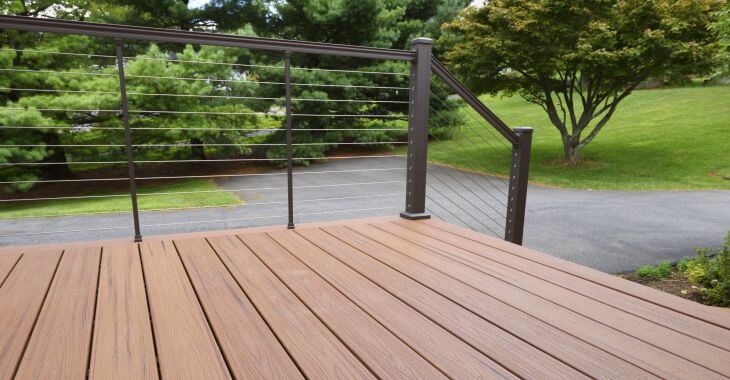 Composite decking is a popular option for building decks that are low-maintenance and durable. Unlike wood decks that require routine staining, painting and extensive cleaning to keep maintained, composite decking only requires light upkeep to maintain a beautiful appearance. There are different types of composite decking, such as the Trex® composite decking, that may have specific cleaning techniques needed. Here are some tips on how to clean composite decking to keep it looking like new for years.
Common Debris That Impacts Composite Decking
Many homeowners choose composite decking to avoid the hassle of extensive maintenance like staining and painting. While composite decking will not fade and discolor like wood, it can be stained and discolored by debris and certain substances. There are a few substances that should be removed as quickly as possible from your composite decking. Here are some common debris problems and how to clean composite decking to avoid discoloration.
Hard Water Stains

Hard water contains minerals like lime and calcium that can leave spots on composite decking. The best way to remove these deposits is to use white vinegar or a deck brightener product. You will need to rinse the deck. To avoid new hard water stains, you may want to use purified water or dry the deck immediately after with towels.

Food or Grease Stains

If you grill or eat on your deck, spills can occur. Grease, oils and other food substances can cause stains on your composite decking. All food spills should be removed as soon as possible – do not let oil or grease remain on the surface for more than a few days. Simply hose off the spill and gently scrub it with soapy water and a soft-bristled brush to remove the spill.

Leaves and Plant Debris

If leaves, twigs and other debris land on your deck, you want to remove these quickly. If organic material becomes wet, it can begin to decompose and release tannins, leaving stains on decking. Deck brighteners are great for removing tannins – follow the directions on the deck brightener product to clean away plant and leaf stains.

Mold and Mildew

Composite decking tends to have fewer problems with mold and mildew compared to wood, but it can still occur. Pollen is often the catalyst – a film of pollen from nearby plants can attract mold spores onto your decking. General cleaning using soap and water with a brush is how to clean composite decking with mildew or mold discolorations.
How to Clean Trex Composite Decking
The Trex® brand is very popular for composite decking. While each manufacturer may have slightly different recommendations on how to clean composite decking, the methods suggested by Trex is usually safe for most brands. For routine maintenance for your composite decking, you should plan on performing general cleaning at least once a year. Here is how to clean Trex composite decking and most other brands.
Clear your deck of all furniture, planters and accessories
Sweep your deck thoroughly to remove dirt and debris
Prepare a bucket of mild soap and water – dish soap is a great choice of cleaner
Use a garden hose to completely wet the decking
Use a broom or bristled brush to scrub the decking with soapy water, using extra pressure on spots and stains
Rinse off soapy water and loosened dirt
To keep your composite decking looking its best, plan to clean it twice a year. Spring and fall are perfect times to clean after winter and after a busy summer on your deck.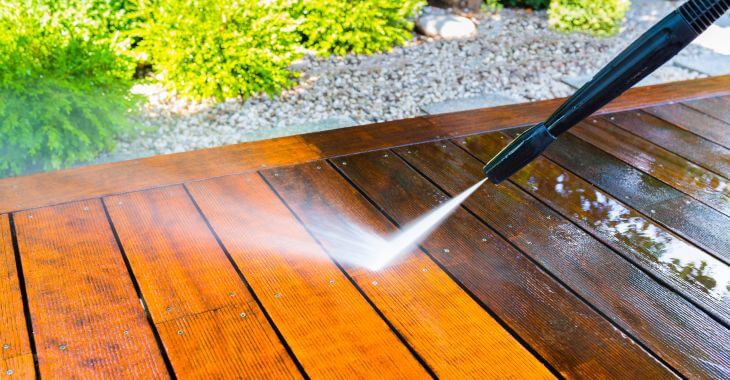 How to Clean Composite Decking with a Pressure Washer
Many homeowners wonder if they can clean their composite decking with a pressure washer. Some composite decking products can be safely cleaned with a pressure washer, but other manufacturers may not recommend it. If you do use a pressure washer, it should be on a very low setting. Trex only recommends pressure washing for their high-performance product lines and very specific settings. These include:
A fan tip should be used to spread out the water pressure
Only use a pressure washer with less than 3100 PSI (some manufacturers recommend even less)
Do not place tip closer than 8-inches to the deck
Check the decking manufacturer's recommendations for pressure washing
It is important to be very careful if using a pressure washer to clean composite decking. Too much water pressure can damage the coating that protects your deck, affecting the appearance and durability. In some cases, you could void your warranty.
Now you know the basics on how to clean composite decking. It does take a little time and elbow grease to clean your decking, but it can help protect it and keep it looking like new. If you want to save time and effort, you can hire a landscaping service that offers composite decking cleaning as one of their services.
Was this article helpful?