What Are the Standard Sod Sizes?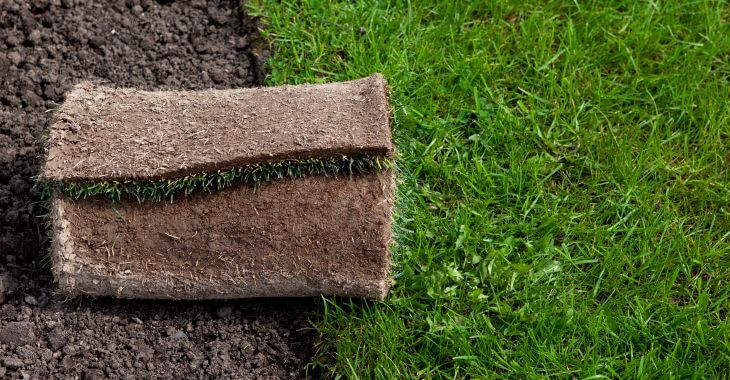 If you want a beautiful, lush lawn fast, there is nothing better than sod to create the turf you desire. While sod is more expensive than planting grass seeds, it can give you almost immediate results. But before you order sod, you need to know the different sod sizes and how much you will need.
Sod is turf that is grown on a farm, then cut into pieces, rolled, and secured before it is hauled to its destination. The number of sod rolls you will need to cover your lawn is vital to determine – you do not want to begin your project with too little sod or pay for sod rolls you do not need.
Sod Roll Size
The standard sod size depends on the company you use and there is not an industry-standard in place. The sod roll sizes vary from a small slab of sod to large sod rolls that cover a significant area of ground. Some of the more common dimensions of sod and roll sizes include:
Slabs – 16" x 24"
Small sod rolls – Five square feet, usually 40"x18"
Large sod rolls – Ten square feet, usually 60"x24" or 80"x18"
Since there is no industry sod size standard, you will want to ask the sod company you order your sod from what sod sizes they carry. Depending on the width of your yard and how much cutting you are willing to perform, you may want to order rolls that will easily fit your dimensions.
How Thick Is Sod?
When it comes to choosing sod sizes for your new lawn, you also need to consider the thickness. You want your new lawn to be level with the surrounding elements in your yard. For example, if your lawn is adjacent to your driveway or sidewalk, you want it close to the level of the surrounding surfaces.
How thick is sod? Once again, there is no standard across the industry, but you can expect that most sod rolls will range from one to three inches in thickness. If your soil is only an inch or so below surrounding surfaces, you will want thinner sod, but if the depth is deeper, you will want thicker sod.
The thickness of sod can vary depending on the type of grass and the depth of the roots. If you want a particular type of grass, you may want to inquire about the different thicknesses to ensure your soil is the right depth to accommodate thinner or thicker sod rolls.
How Much Does a Roll of Sod Weigh?
Since sod sizes vary, the weight of a roll of sod will also vary. Not only does it depend on the dimension of sod and thickness, but how fresh is the sod. Newly cut sod can be heavier due to the amount of moisture in the rolls, while sod that has been sitting for days will weigh less.
How much does a roll of sod weigh? Anywhere from as little as 15 pounds up to over 60 pounds per roll can be expected. Pallets of sod rolls can contain dozens of rolls and the entire pallet can weigh thousands of pounds.
If you are planning to install your sod yourself, you want to know how much these rolls will weigh. Sod sizes and weight will be a factor, not only to cover the area needed but to handle these rolls during installation. Some people may need to order smaller rolls if they are installing them by themselves.
Questions to Ask About Sod Sizes
For those planning to install a new lawn with sod, there are a few questions to ask your sod supplier. These include:
What sizes of sod rolls or slabs do you carry?
How thick is your sod?
What types of grass do you offer?
How fresh is your sod?
How much do your sod rolls weigh?
How many sod rolls are in a pallet?
You want all the information available on your sod before you order. This can ensure you order the correct sod sizes, types, and thicknesses for your lawn.
DIY or Hire a Landscaper?
When it comes to installing new sod, you can save money by making it a do-it-yourself project. However, you need to consider sod sizes and how to ensure you get the best results from your new turf. Unfortunately, some DIY sod projects fail, and the money spent on sod is wasted.


Professional landscapers that offer sod installation have the tools, experience, and expertise to create a healthy new lawn. They can order the correct sod sizes and thicknesses to create the new lawn you desire. The chance of your new lawn flourishing is higher when it is professionally installed.
Now you know what to expect when it comes to standard sod sizes, weights, and thicknesses. If you want to create a gorgeous new lawn and want to avoid the struggle of doing it yourself, contact your local landscaper to perform your new sod installation.
Was this article helpful?