Mulching Tips and Tricks for Superior Results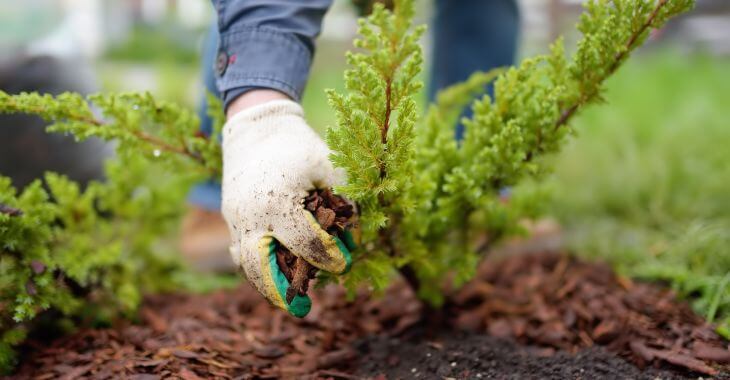 Mulch is a crucial element for maintaining a beautifully landscaped outdoor area. Mulch comes in many forms, from organic barks and pine straw to rock and other materials. Organic mulch is the most popular option, which has many benefits. Here are some mulching tips and tricks to get the most from your organic mulch.
Mulch is used to as ground cover in gardens, landscape beds and other outside areas. There are several reasons to use mulch. Soil preservation is one of the main reasons for using mulch – it helps insulate the soil to maintain moisture levels during the summer and heat during the winter. Other uses of mulch include:
Add nutrients to the soil
Weed control
Appearance
Certain varieties can provide pest control
Reduce soil erosion
Using mulch can help reduce maintenance on your yard while improving soil and growing conditions. Plus, mulch can create a neat, clean appearance in your landscaping.
Types of Organic Landscaping Mulch
All organic mulch can provide insulation for your soil. Most will also add nutrients to the soil as it decomposes, but each varies in what nutrients it offers and how long it will last. Mulch for gardens can include straw, leaves, grass clippings, compost, cocoa chips, paper/cardboard and other organic materials.
For landscaping, wood and pine needles tend to be among the most used mulches. Some of the popular options in landscaping mulch include:
Pine bark nuggets and chips
Hardwood nuggets and chips
Pine straw
Cypress
Red Oak
The type of mulch you use depends on where you are using it and your desired results. You may use different mulch in each area of your landscaping – your gardens may benefit from using mulch that breaks down quickly, while longer lasting mulch may be best around trees and shrubs.

Mulch Landscaping Tips
If you want to make the most of your mulch landscaping, you need to know when and how much mulch to use. You want enough mulch to protect your soil, but too much can be detrimental to your landscaping. Here are some mulching tips and tricks for your landscaped areas.
Mulch in Mid-Spring

You want mulch to help control weeds and provide a barrier between your soil and the environment. When adding new mulch, wait until mid-spring. This gives the soil time to warm up before you add insulation. However, you want to add mulch before the weeds begin to pop up to minimize weeding.

Do Not Over Mulch

Most mulch should be added in a layer about two inches thick. You want enough to insulate the soil and provide a beautiful covering, but not more than four inches. Too much mulch can prevent moisture from penetrating and create shallow roots that are prone to damage in dry or cold weather.

Use Wood Mulch Around Trees and Shrubs

Wood mulch is perfect for areas where you will not need to dig. You can choose from many different colors and types – pine tends to last longer, but hardwood comes in many beautiful colors. Wood mulch can work well in landscape beds around roses and shrubs, as well as around your trees.

Use Straw, Compost and Light Mulch in Gardens

If you are adding mulch to your flower or vegetable gardens, you want light mulch that breaks down faster and is easy to displace. Compost, straw and topsoil mixtures can work great for gardens, adding nutrients while providing a light barrier for the soil.

Mulch Again in the Fall

Mulching twice a year for landscape beds and around trees is ideal. Most areas should maintain about two-inches of mulch – up to four-inches in direct sun or weed-prone areas. Mulch in mid-spring and late fall, adding just enough to replace what has decomposed or eroded away during the summer and winter.

Mulch Landscaping for Slopes

Different areas may require different mulch. Bark or wood nuggets are great for beds and flat areas, but they tend to roll and move on slopes and hills. Pine straw is excellent for slopes and hills. The needles tend to interlock, holding them in place. This can reduce lost mulch and maintain your landscaping.

Avoid Mulch Mounds Around Trees

Tree roots can benefit from mulch for protection but do not make the mistake of mounding mulch around the trunk. Spread an even layer of two or three inches of mulch around the tree to avoid inviting pests and insects to infest your trees. The mulch should be thicker on the outside, not near the trunk.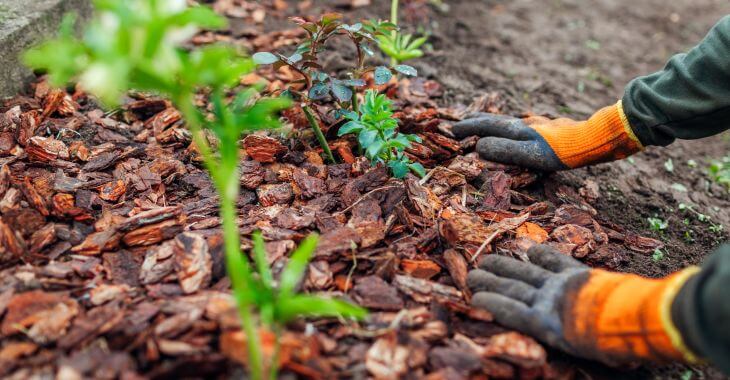 Mulch landscaping can help create healthier growing conditions for your plants, trees and shrubs and reduce maintenance. It can also create a clean, professional appearance for your landscaping. To learn more, ask your local landscaper for mulching tips and tricks for your yard and gardens.
Was this article helpful?