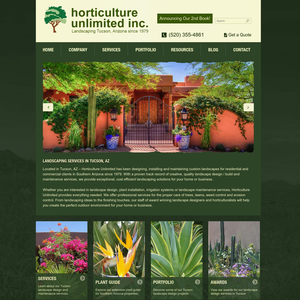 About Horticulture Unlimited Inc.
Looking for a Good Tucson Landscaper?
Finding a good Tucson landscaper can be difficult. With so many companies advertising landscaping services in southern Arizona, it's hard to distinguish the professionals from the amateurs. If your Tucson landscaping job is more than just some tree trimming and weeding, you should consider a professional. Of course, those little do-it-yourself jobs are possible, but to attain real, quality landscaping, hire a professional Tucson landscaper.
Horticulture Unlimited Inc. provides expert landscape design, build and landscape maintenance services in Tucson, AZ. As a licensed landscape contractor, Horticulture Unlimited can help you with all of your Tucson landscaping and outdoor construction needs. From the careful selection and installation of plant materials to the design and construction of patios, walkways, outdoor fireplaces and water features, Horticulture Unlimited provides everything needed to create and maintain a beautiful landscape that you can enjoy all year.
Tucson Landscaping Services
Landscape Design
Landscape Installation
Landscape Maintenance
Irrigation Services
Plant Care
Lawn Care
Tree Trimming
Weed Control
Landscape Renovation
Landscaping Tucson, AZ since 1979
Horticulture Unlimited Inc. opened its doors in 1979 with the goal of bringing a new level of professionalism and value to the landscaper market in Tucson, AZ. Since then, they have achieved top rankings as a professional, award winning landscape contractor serving Tucson and surrounding communities. Horticulture Unlimited is distinguished for their knowledge of arid-region plants, high quality workmanship, creativity and outstanding customer service.
Services
Commercial Landscaping Services
Landscape Design
Lawn Maintenance
Residential Landscape Services
Sprinkler and Irrigation Service
Tree Maintenance
Horticulture Unlimited Inc. Locations
Address
3237 North Richey Boulevard
Tucson
,
Arizona
85716
Languages spoken: English
Opening hours
monday:

8:30 AM - 4:30 PM

tuesday:

8:30 AM - 4:30 PM

wednesday:

8:30 AM - 4:30 PM

thursday:

8:30 AM - 4:30 PM

friday:

8:30 AM - 4:30 PM

saturday:

Closed

sunday:

Closed